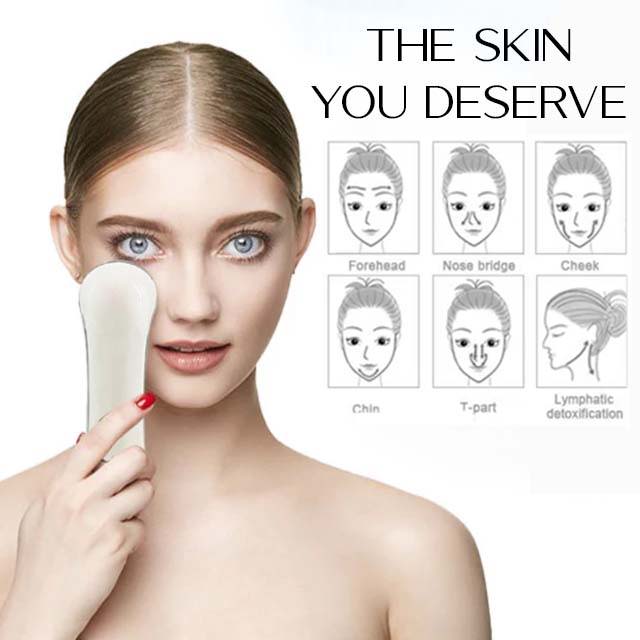 WHY PEOPLE LOVE REJUVE SKIN™
✔️ SAFE AND EASY TO USE - Suitable for all skin types, whether dry or oily. 100% Safe to use on sensitive skin
✔️️ REDUCE FINE LINES & WRINKLES by stimulating collagen & elastin production. Restore skin elasticity, giving you a youthful appearance
✔️ TONE & TIGHTEN SAGGING SKIN - No more double chin or puffy eyes!
✔️ GET RID OF ACNE AND REPAIR ACNE MARKS by shrinking pores and drying excessive skin oil
✔️ TREAT VASCULAR SKIN PROBLEMS like redness, spider veins, and rosacea
✔️ REPAIR SIGNS OF AGING - Improve overall skin color and evenness by diluting pigmentation, dark spots, and freckles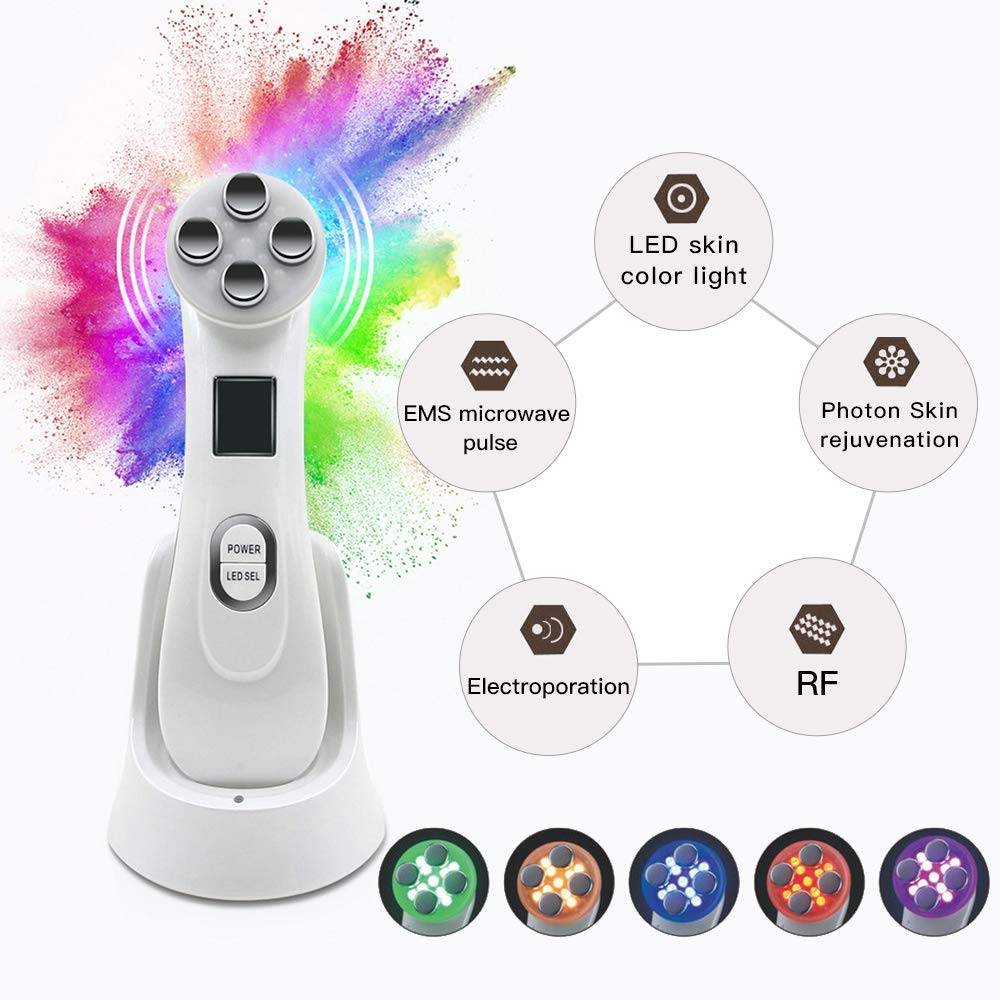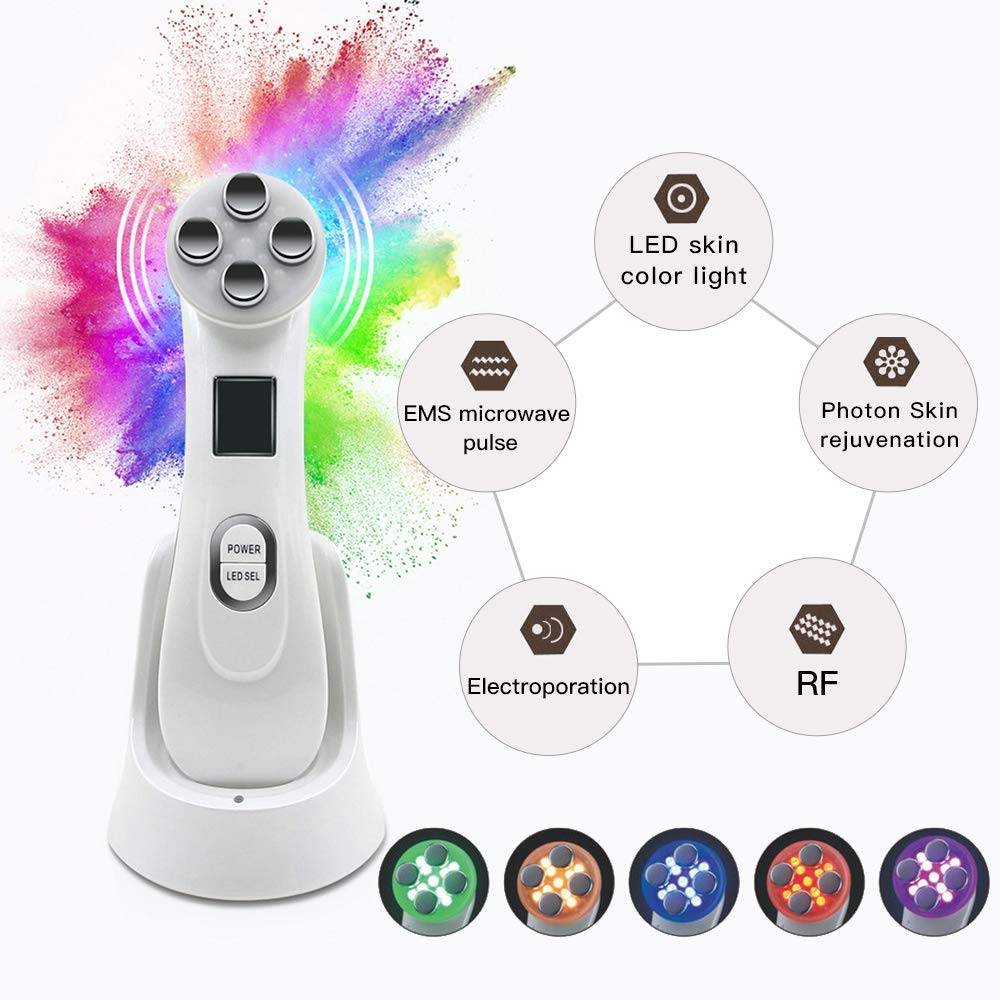 5 IN 1 LIGHT THERAPY TREATMENT
RED - Reduces fine lines and wrinkles dramatically. Improves skin firmness and elasticity, helping to lift and tighten the skin.
GREEN - Improves skin tone, while reducing hyper-pigmentation and eliminating age-spots & freckles.
YELLOW - Treats and reduces redness caused by rosacea, sunburn and other skin inflammations.
BLUE - Kills bacteria which causes acne. Reduces and prevents spider veins, and acne scars.
PINK - Revitalizes your skin for a brighter glow. Adds radiance and vitality to dull skin.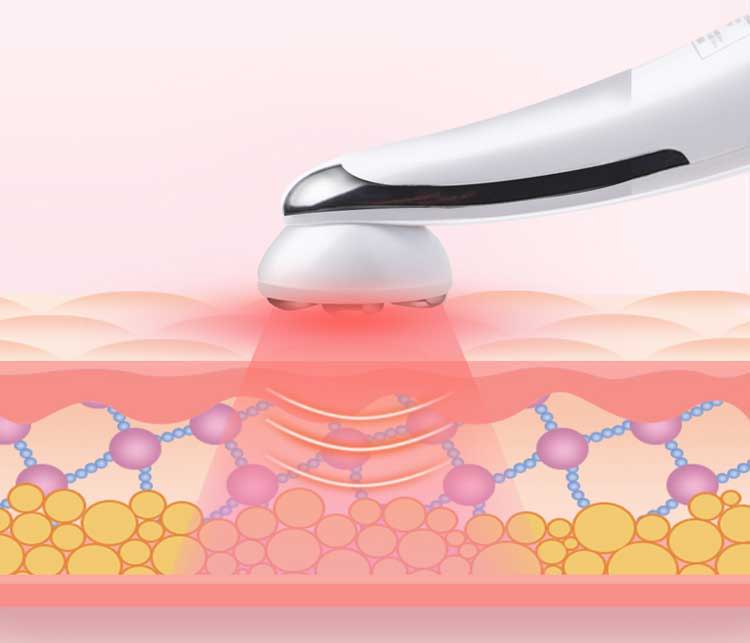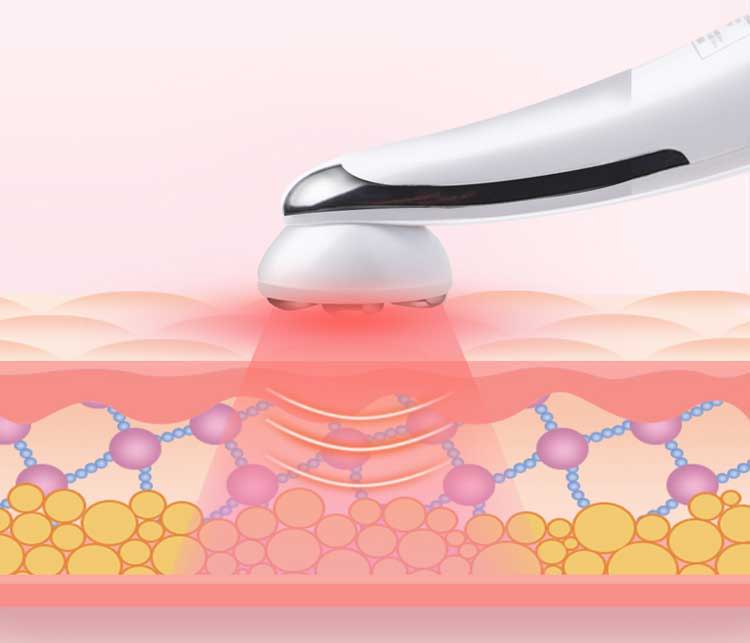 (LED) LIGHT THERAPY: When used consistently over time, LED light therapy reveals its true potential tightening the skin, reducing wrinkles, and making it healthier.

MESOTHERAPY: Using a special electric pulse nourishes and rejuvenates the skin while also stimulates the production of collagen and elastin, both essential for skin's natural elasticity.
EMS-ELECTROPORATION: Enhances product absorption. Collagen, Hyaluronic Acid and other substances from beauty products can be administered deep into the dermal layers.
RF CURRENT: High-frequency waves improve aging wrinkles, promote lymphatic and blood circulation and favor the creation of new collagen boosting even more the rejuvenating effect of LED Light Therapy.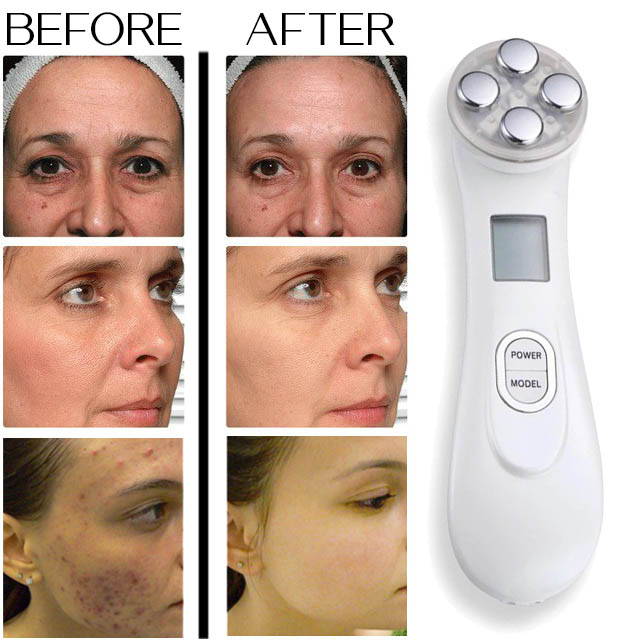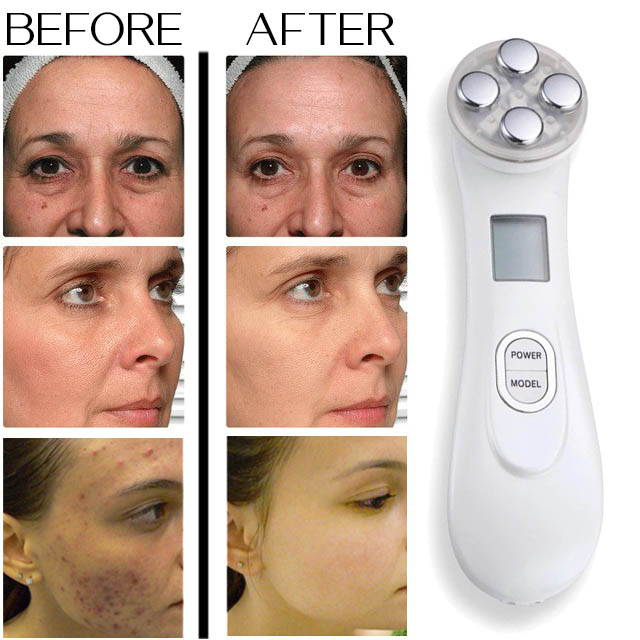 RESULTS THAT SPEAK FOR ITSELF
Linda, 54 - via Facebook
"When my girlfriend told me was using this device I was skeptical about it. After seeing the changes that it did to her skin, I bought one for myself and could not be happier. I've been using it for the last 4 months and my skin is looking much firmer and the pores in my facial skin are smaller!"
Emma, 37 - via Instagram
"I am so pleased with Rejuve Skin! My skin, once a battlefield of old pits, dings, and bumps, is now smooth and tight. My wrinkles appear to be diminishing also! It has given me so much more confidence and improved my interactions with people since I no longer feel like they are staring at me and wondering how old I am! Thanks so much, it has really changed my life."
See other changes. Click here.
ENHANCE YOUR LED LIGHT THERAPY TREATMENT
The use of a conductive gel is highly recommended to enhance the effects of LED Light Therapy and longevity of your treatment. Purchase our best-selling conductive gel and save 50%

30-Day Money-Back Guarantee
We are proud to offer free shipping worldwide to all our customers. A tracking number is included with all orders. For an estimated delivery time to your region, please refer to our Shipping & Delivery page.
To offer you the best shipping experience, you won't be charged any sales taxes. That's on us :)
Who is the device recommended for?
Rejuve Skin™ 5 in 1 LED Skin Tightening is recommended for women or men of the age of 16 and older who want to improve their skin appearance and health.
What type of gel can I use?
Yes. The use of a conductive gel is extremely recommended to enhance the effects and longevity of LED light therapy.
You can find out best-selling conductive gel below:
Do I need protective goggles?
If you plan to use the device near the eyes area, you must use protective goggles.
You can purchase our goggles with a special price by clicking below:
Step 1: Clean your skin and apply your gel or serum (for the best results, we highly recommend the use of a conductive gel such as the Rejuve Anti-Aging Gel™
Step 2: Rub the device on the desired area. To achieve the most out of your treatment, use the device for up to 10 minutes per day, 3 times a week

Step 3: After the use, wash your skin with soap and warm water
Are there any contraindications?
The device should not be used under one of the following conditions: pregnancy, epilepsy, hypertension or hypotension, heart diseases, skin diseases, install pacemaker, cancer, artificial heart or lung, allergic reaction to serums, sunburns, fever, oversensitive skin, or during medical treatments. In case of previous medical conditions, please consult your doctor. Do not use on children aged 16 and below.
We're always here for you
If you have received a defective or damaged product, please contact our helpful customer support (click here) within 30 days of receiving your order and we'll be happy to send a replacement unit or refund your money. If your device is defective within 90 days of receiving your order, Due to COVID-19, please contact our helpful customer and we'll be happy to send a replacement unit. Due to COVID 19, we are no longer accepting returns during this period, if your device is defective, please send us a video showing what is happening with your device, so we can better assist you!

Once I began to use this product consistently, I saw a noticeable difference in about one week. My skin is radiant and supple. The dark spots and blemishes have begun to fade away. My skin has not felt like this since my pre-teens!
- Cristen C - Wyoming, USA
I love this product. Skin is smooth, feels fresh and less wrinkles all around. Really like it, absolute must for me. Just gave one to my mum and she loved it! Thank you.
- Courtney M - Manchester , UK
Even my eye doctor noticed how 'young and healthy' my skin was after eye surgery, enabling fast healing. I used Rejuve Skin before the scheduled procedure and will be using it FOREVER! Amazing product!
- Michelle T. - Calgary, Canada
The Official 5 in 1 LED Skin Tightening Device